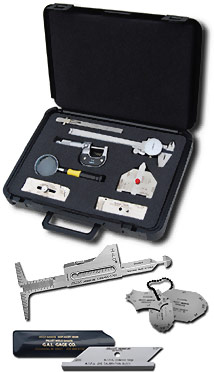 All products manufactured by G.A.L. Gage Company, Inc., are guaranteed to be free of defects due to faulty materials or workmanship for a period of three months from receipt at job site or facility.
Our liability is limited to the purchase price of any product upon its return to the factory, less an allowance for damages resulting from repairs, changes or additions made by others. G.A.L. Gage Company, Inc., must be notified at once, in writing, of any defective part, upon discovery of same.
Return Goods:
No merchandise may be returned without our prior permission. All items returned for credit will be subject to a 23% restocking charge.
Freight on all items returned must be prepaid.
All orders which are cancelled are subject to a cancellation charge.
Purchaser will not be allowed any credit for products and/or parts which are manufactured to purchaser's specifications.
G.A.L. Gage Company
P.O. Box 218
Stevensville, Michigan 49127-0218
Telephone: (269) 465-5750 • Facsimile: (269) 465-6385